this post is to
ganti
the posts that im supposed to post long time ago~~
seems that ive been away from this blog for AWHILE
haha so-called AWHILE
i updated like 1 post for March ony and 1post for APRIL
and now this blog is CALLING me to keep it ALIVE
since im a
VERY GOOD AWESOME SUPER DUPER
blog owner
ill start updating~ :DDD *finally had the mood to do so
*
warning!!
lots of words ahead*
so okays! last update was.. before the
SUPER SHOW 2
concert
the tag doesnt count haha! wahh now i notice how long this blog
had been abandoned.. i cant promise that i wont abandoned it
again in the future.. dah update ni pun okay what! haha XDD
so then firstly i want to tell you all that
OHMY.. SUPER JUNIOR WAS AWESOME! haha
didnt get to take pictures tho~! too bad! but still ive cherish every
MOMENTS of the concert! it was WORTH-going CONCERT!! XDD
Kyuhyun voice is the BOMB! XD
Heechul was PREETY!
Wookie was SOO SMALL and CUTE
Eeteuk was VERY YOUNG and Handsome LOOKING
Donghae LOOK SOOO SUPER handsome haha!
Siwon was very MANLY..
Sungmin was.. err i didnt pay much attention to him lol
Eunhyuk was... hmm.. EUNHYUK~ well the ELFs know what i mean haha!
Shindong looked thinner irl~! XDD
Yesung was SICK, but still AWESOME!
ZhouMi was surprisingly good looking for the 1st time ive seen him
Henry was ADORABLE! haha i dun really recognise SUJU M
members so i didnt know them before HAHA! XD
im a full timer SHINee fan laah! XDD
heee! :D
there's so many awesome things.. and
SHINING STAR
was awesome!
i love the CUTE play they did for Magic Castle too! :DD
<3
so then NEXT!!
hahaha last Sunday went to
Seoul Garden
at I0I Mall Puchong
wahh i never thot of updating about this! XDD
oh well i'll update bout it with pictures ony then! :DD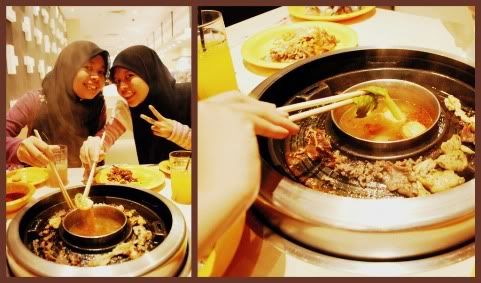 sedaaaaap~~~ :P especially the Black Pepper BEEF! :DDDD
the Steamboat in the middle is TOMYAM soup! :D
ahh want to eat there again.. but if eat there everytime
will make u COMPLETELY POKAI.. its kinda expensive =X
then! what else to talk about???
OH YEAH! ive finally
PASSED my Driving Test!
haha i took the test on 30th March.. and i failed the 1st JPJ test
which includes, STUPIDhill/slope, parking and 3pointTurn *i failed at the HILL
the car reverses! STUPID LIL KANCIL! haha *blame the car
2nd JPJ test was the ON THE ROAD i passed this with the mark of 17/20
haha the passing mark is 16/20 lol! XD
so i had my RETAKE exam on 13April and got home HAPPILY cos
i PASSED!! weeeeehuuu heeeeee *runs in circle+jumps
fuhhh.. finally i will get my P lisence idk when but the earliest is by 3 days~
:DDD
yeaaaay!!! so then ill be driving everywhere soon!
haha *mcm laah ade kete! :P
and now lets TALK about
MOVIES and Dramas!
for MOVIES ive watch
Alice In Wonderland, How To Train Your Dragon and Clash Of The Titans
and the BEST was
How To Train Your Dragon!!
woot it was a VERY good movie i like it very much
Alice was kinda BORING but okay lahh not BAD~~ haha
like my opinions matters! haha XDD
DRAMAS!
haha i've been rotting at home watching DRAMAS!
the episode on KBS of
Master Of Study
(kdrama)
ive finished watching it all
and it was great.. SPM students this year should watch it! LOTS of tips! :D
and and Hwang Baekyeon and Hong Chandu they're good LOOKING
haha i need to write Baekyeon name first because Irynn took Chandoo :X
the girl Hyun Jung is soo Pretty and CUTE! XDD she's Jiyeon from T-ara
haha Overall Master Of Study is a good Movie for Students! :DD
and it came out a year late~!! XD
the MAIN POINT is HERE!
You're Beautiful/ Minami Shineyo! (kdrama)
huahuahua THIS DRAMA IS A MUST WATCH!! must i say!
seriously i've finished watching it through
Mysoju
it was A VERY interesting drama~ its kinda like Hanakimi
a girl disguise as a BOY~ but i tell you the plot is DIFFERENT and so
MUCH MUCH more awesome with
Jang Geun Suk (Tae Kyung)'s handsomeness
haha Hong Ki from FT.Island as Jeremy he is so CUTE! :DD
Yong Hwa in C.N BLUE as Shin Woo theyre favourite word is
GO MI NAM! haha that name is so catchy lol!
Go Mi Nam(Park Shin Hye) is the girl who disguise as a boy..
it was a FUNNY drama u can just laugh by ur own when thot of it
*or maybe its just me? crazy
MUST WATCH yea! :DD
lastly! currently im watching
Bloody Monday Season 2~
i just bought the DVD yesterday! and ive watch until epi 3
this DRAMA gotten much much more INTERESTING in season 2~
for BLOODY MONDAY fans or or Miura Haruma and Sato Takeru's fans
WATCH! :DDD
im tired of typing ady
END!
-aineee